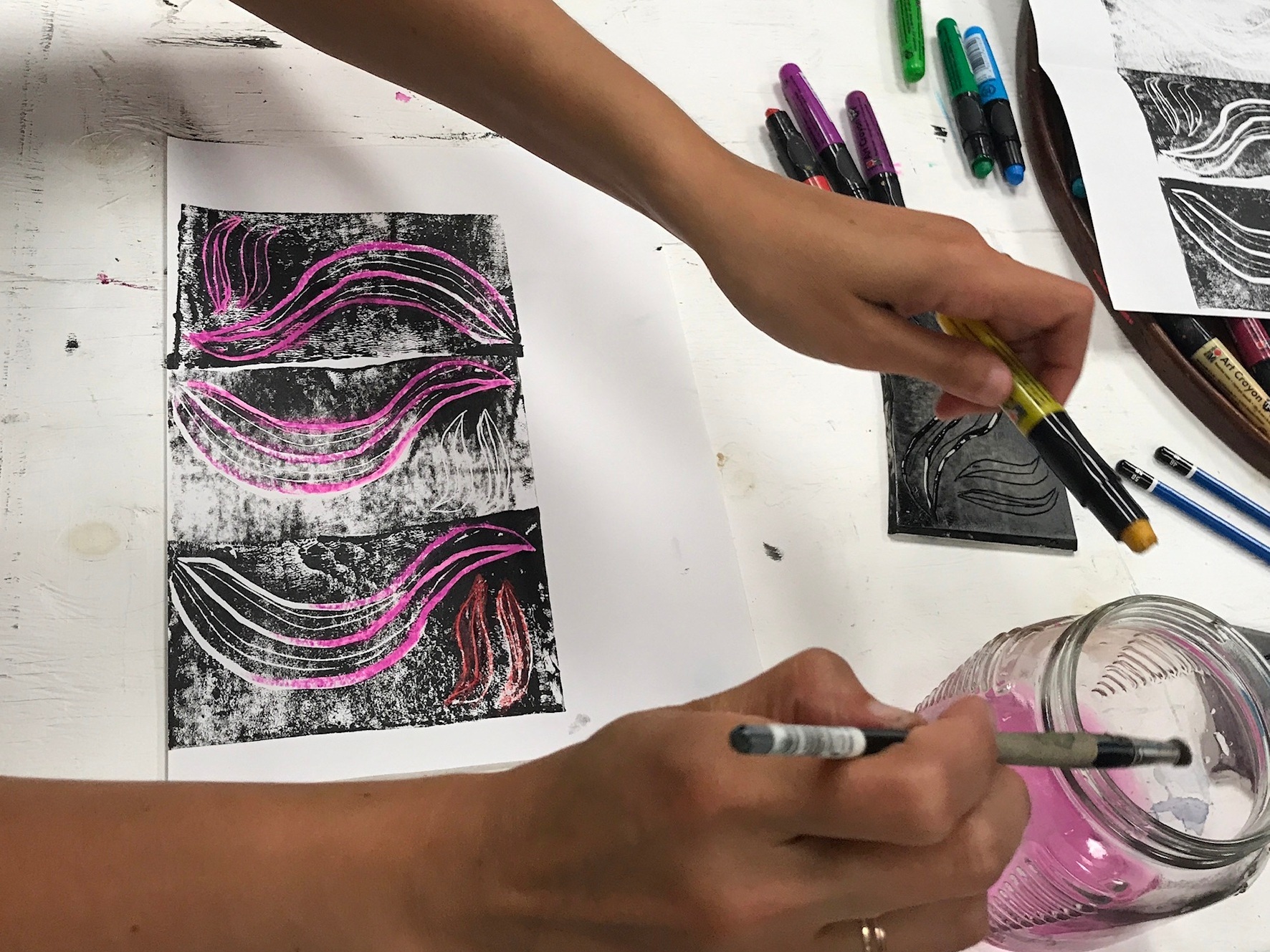 Celebrating Yourself: Carving Printmaking Blocks
The two sessions in the month of September are all about easing into community by celebrating yourself. It's an opportunity to play with personal symbol and icon to reflect on what you value in yourself and your life. Print them to make your mark. Move forward by creating individual and group art works and watch the connections grow!
Wednesdays 1:30 - 4:30 PM
September 18th & 25th
New Life: Altered Book Collage
Begin an altered book or series of books using subtractive and additive processes to up-cycle vintage books into visual journals. Bring yourself and the book new life!
It's going to be perfectly imperfect. And fun! We will play with collage using photocopy, gold leaf, pain, printing, dying, acrylic paint pens, black out poetry, sewing and journaling. Let the group, and your whole life, be your inspiration!
Wednesdays 1:30 - 4:30 PM
October 2, 9, 16, 23, & 30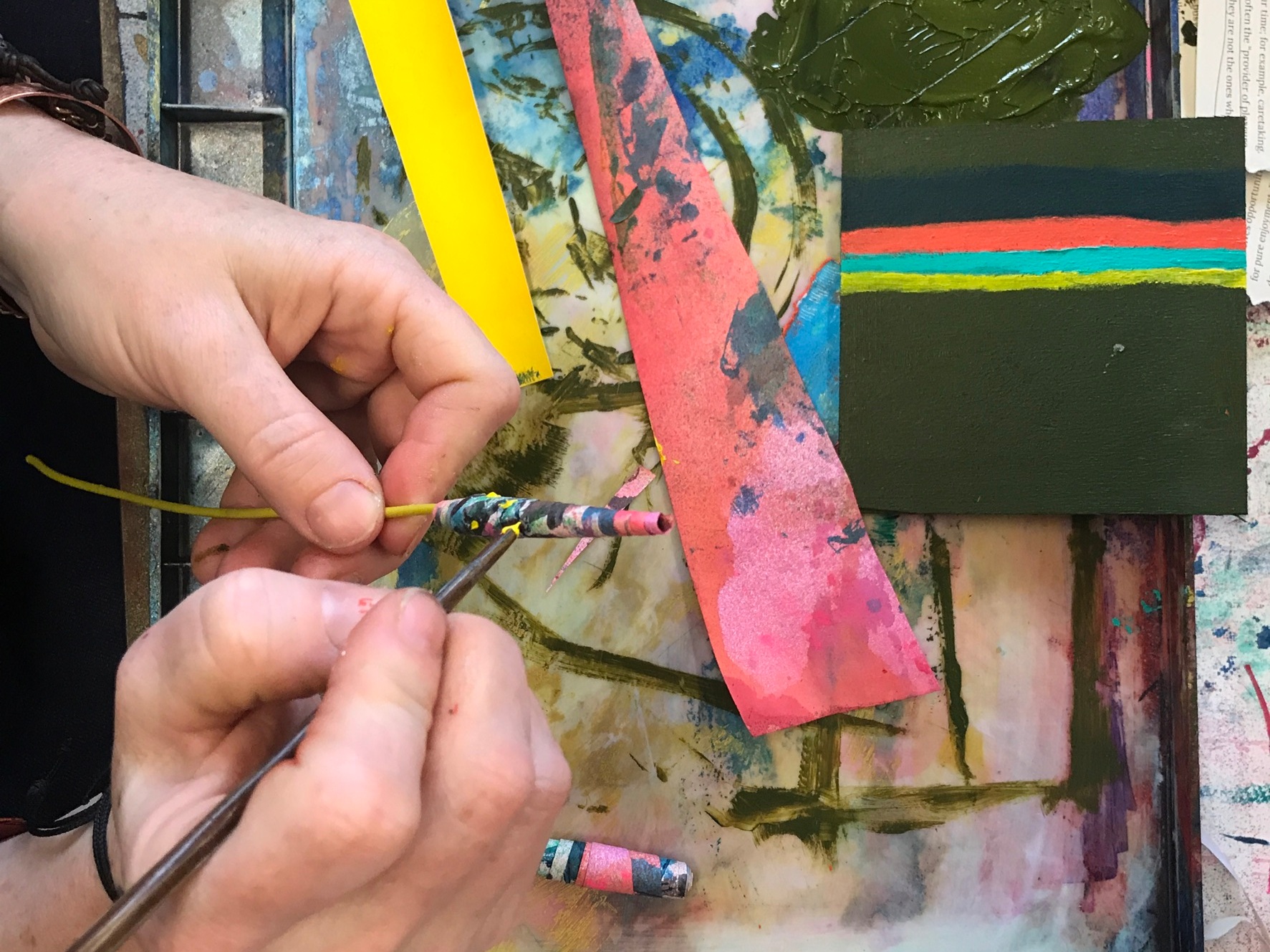 Cultivating Appreciation: Fabric & Paper, Sew & Dye
Embrace the season and intentionally create your best life by making a series of paper and/or fabric gratitude flags. Have fun and expand your repertoire by printing, batiking, and collaging on fabric. Then string them together and step into the energy of appreciation! What you focus on grows!
Additionally, continue your altered book adventure.
Wednesdays 1:30 - 4:30 PM
November 6, 13, & 20
Do What YOU Love!
Use your favorite techniques, including printmaking, collage, painting, batiking, sewing, and others, to make art that you can give as a holiday present, mail as a card, or use to ritually usher in the New Year. Surprise yourself and others!
Wednesdays 1:30 - 4:30 PM
December 4, 11, & 18
F.A.Q.'s
Q: Do I have to come each week?

A: No, we're all women and we understand scheduling complexities, so come as much as you can and you will feel the benefits of attending grow, but definitely do what you need to do. You won't miss any technique that you can't catch up on.
Q: Do I have to have experience making art?

A: Absolutely not, everyone can benefit from the creativity promoting, anxiety reducing self-expression of art making! If you have no experience with art, this will be a perfect safe place to play and find your voice.

Q: Do I have to sign up for the whole semester?

A: Committing to the semester is like a membership and the experience you have from month to month builds your sense of self-esteem around art making.

Q: Are supplies included?

A: Yes, all supplies are included!

Q: What does open studio mean?

A: It means that you can work on any thing you want to during any group. Each month there is a new offering, or several new offerings, but if you love one process and want to continue it you can, or work on your own project. The accountability and the vibe of the group is wonderful, no matter what you are focused on.
Practice being present through creativity, and bring the power and beauty of your presence home to your children and families. Tap into your intuition and aesthetic to reinvigorate your sense of self in ways that have the potential to serve the whole family unit. Be part of Women's Art Connection, a wellness promoting community, and thrive!